William Gilliland of New York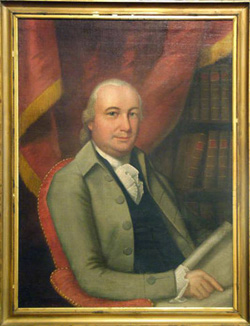 Portrait of William Gilliland (1734-1796)
Pioneer Settler of Essex and Clinton Counties, New York
This oil paint on canvas portrait was painted in New York City in 1789 by the renowned portrait artist Ralph Earl.
Will Gilliland, as he called himself, is shown at 55 years of age, robust in health and as a properous merchant. The portrait gives no indication that it was painted while he was in the gaol or jail of the city, debtors prison.
The painting was obtained and restored by the generosity of the Paine family in memory of Mr. Peter S. Paine and is located at the Fort Ticonderoga Museum where it is on permanent display. It was dedicated and unveiled July 6, 2007, at the Willsboro Heritage Society.
We acknowledge the generosity of the Fort Ticonderoga Museum for its reproduction here.
To read David Glenn's biography of William Gilliland, please follow this link: William Gilliland (Word Doc)
Historical Markers
Right-click on a link to download the document files to your disk.
1809 Blast Furnace (Word doc) | 1809 Blast Furnace (PDF)

At the mouth of the Salmon River
Town of Plattsburgh, Clinton County, New York
By David Glenn, March 2009

Possession House (Word doc) | Possession House (PDF)

At the Salmon River
Route 9, Town of Plattsburgh, Clinton County, New York
By David Glenn, March 2009

The Friswell Patent (Word doc) | The Friswell Patent (PDF)

Town of Plattsburgh, Clinton County, New York
By David Glenn, March 2009

The Gilliland Homestead (Word doc) | The Gilliland Homestead (PDF)

4091 Route 9, Town of Plattsburgh, Clinton County, New York
By David Glenn, March 2009

Sax House (Word doc) | Sax House (PDF)

NYS ROUTE 9 AT SOUTH JUNCTION ROAD

NYS Route 9 at South Junction Road, Town of Plattsburgh, Clinton County, New York
By David Glenn, March 2009

Gilliland Cemetery (Word doc) | Gilliland Cemetery (PDF)

Route 9, Town of Plattsburgh, Clinton County, New York
By David Glenn, March 2009