Excerpts from Jackson, Ohio, Newspapers
The Portsmouth Times | October 23, 1936
Reunion of the Samuel Gilliland family at Oak Hill (Word Doc)
(Click on thumb for larger image)
Transcribed Articles
Jackson Standard Journal, 1922 series of articles
Story of the Gillilands in Jackson County by G.W. Gilliland
Contributed by Karen Gilliland McCall
The 1931 Murder of James Gilliland, Oak Hill, Ohio
Contributed by Bill Gilliland
Newspaper Clippings
(Unidentified Jackson newspaper), October 24, 1915
Two 1915 articles on the (re)dedication of the Hamilton-McCoy Church, Mabees Corner, Hamilton Township, Jackson County Ohio.
Kate's notes: Bill has been sorting through the many clippings in the photo albums of his gr-grandmother, Belle Brunton Gilliland, and grandmother, Alma Howe Gilliland, to provide Gilliland Trails with some terrific history of the Gillilands of Hamilton Township, Jackson County, Ohio. It is not known from which paper or papers these clippings originated but because the subject is the old Hamilton-McCoy Church, I've placed these among the newspaper articles for Jackson County and will in future provide transcripts for both articles.
In our library we also have a photo album for the Gilliland gravesites at Hamilton-McCoy, a beautifully maintained old country church and cemetery. We can thank Karen Gilliland McCall, another descendant the Nathan Gilliland line via the Warren Gilliland family, for her wonderful work towards its upkeep.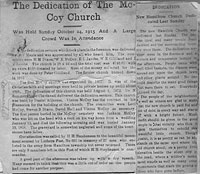 Contributed by Bill Gilliland, a great-grandson of the Peter Gilliland mentioned in the first article.