Inventors & Inventions
John Ralph Gilliland and William J. Gilliland
1922 patent of John Ralph Gilliland and William J. Gilliland, both of San Francisco
I am not at this time certain of the pedigree for these men, but presume they are descendants of a John R. Gilliland who, along with a David R. and Thomas T. Gilliland, received California land patents along the Mount Diablo Meridian in the 1870's. A notice regarding the estate of John R. Gilliland, deceased, was published in the Sacramento Daily Record-Union, Sacramento, CA on Jan 9, 1891, though the notice was signed by his executor on December 18, 1890.
More information on this line or the two inventors would be welcome.
» Download US1570739 (PDF)
James F. Gilliland
1884 Patent of James F. Gilliland. James was part of a family of Gillilands famous as inventors. He was the son of Robert Gilliland, whose biography may be found in our library, and a brother of Ezra, who was for a time a partner of Thomas Edison.
Click on thumb for larger image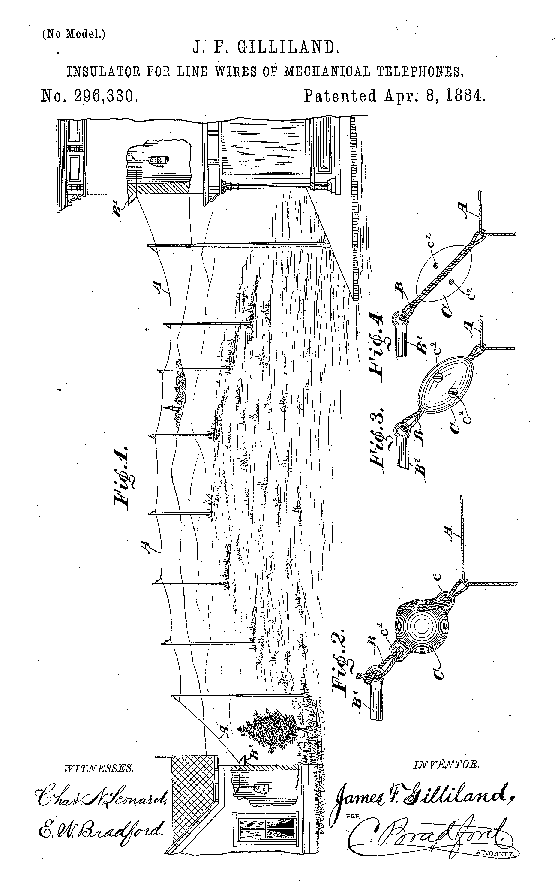 Edgar Beresford Gilleland
Edgar Beresford Gilleland of Los Angeles, California, was a descendant of Irish-born John Berrisford Gilleland, who settled in Jackson County, Ohio in the early 1800's. These two patents, dated 1935 and 1938, illustrate his development of a curling iron. The second draft looks remarkably like many modern curling irons.
Click on thumb for larger image