Wolf Bounty
Kate's Notes: This rare document, an 1812 wolf bounty scrip for Nathen Gilliland of Ohio, recently sold at auction; though I had eagerly bid on this item I was no match for the lucky collector who eventually won.
The importance of a document such as this one is that it places Nathan Gilleland (Gilliland), 1775-1823, son of Samuel 1755, in Champaign County, Ohio at this early date. Nathan was the brother to Samuel 1787 who married Sarah Krouskop in Pickaway County and who is buried at Stephenson Cemetery in Hamilton Twp. of Jackson Co., OH, and brother also to Hugh who married Rebecca Martin, both of whom are buried at Hamilton-McCoy Cemetery at Mabees Corner, also in Hamilton Twp. of Jackson County.
Nathan can be found in the records of Champaign and neighboring Logan County as early as 1810. The tie to Logan County is especially important as this is where the Krouskop line first intersected the Gilliland line -- not Pickaway, as some might assume. Sarah Krouskop's father (Johann) George Krouskop (a son of Johann George Sr.) was a pioneer of Logan County predating the arrival of the Gillilands, and both of her parents were children of Revolutionary War veterans of Pennsylvania and New York. Some of Nathan's descendants, in turn, became pioneer settlers of Cedar County, Iowa.
Transcription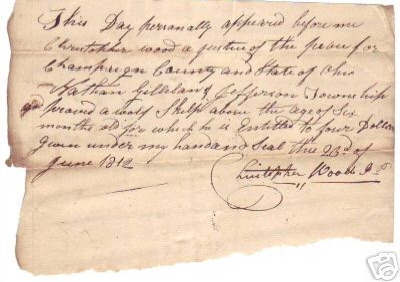 This Day personally appeared before me Christopher Wood a justice of the peace for Champaign County and State of Ohio Nathan Gilleland of Jefferson Township [and?] proved a wolf Scalp above the age of Six months old for which he is Entitled to four Dollars given under my hand and Seal this 23d of June 1812
Christopher Wood J P