Mathews Trading Post, Greenbrier County, West Virginia
Sharon Hobart of Saginaw, TX, a 6th Great Granddaughter of Samuel & Elizabeth Gilliland, recently provided Gilliland Trails with a stellar find of Gilliland family history in the early Greenbrier County, West Virginia area. Two vintage issues of the Greenbrier Historical Society's Journal concern the old Mathews brothers' trading post, including the names entered in the Mathews' Day Books and Ledger.
It is with the expressed permission of the archivist for the Greenbrier Historical Society that I have transcribed portions of these articles for the Gilliland Trails library. These texts should not be posted elsewhere without the permission of the GHS. Some copies of the original Journal may still be available for purchase from the Greenbrier Historical Society but in such cases where orginals are no longer available, reproductions of the articles can be requested for a very modest copying fee. (The page numbers are given in the transcriptions.) For more information on the Greenbrier Historical Society's Journal, please contact their Library and Archivist at archives@greenbrierhistorical.org
The first excerpts here are from Dr. Harry E. Handley's article, "The Mathews Trading Post", published in The Journal of the Greenbrier Historical Society: Volume 1, Number 1 (Lewisburg, West Virginia: Greenbrier Historical Society, August 1963). Dr. Handley's article provided a brief background on the Mathews Trading Post as well as a list of customers recorded in the two "Day Books" between 8 April 1771 to 26 January 1773. It is interesting to note that even at this date the various and evolving spellings of the family surname were evident, though Gilliland and Gillilan were recorded in other documents such as marriage bonds. The Gillelans, Gillelands, Gillilans and Gillilands of both articles were descendants of Nathan Gilliland who was recorded in Augusta County, Virginia by 1745.
Many thanks to Sharon Hobart for providing her copies of the Journal and for her research of the Gillilands in early Pocahontas, Bath and Greenbrier counties.
— Kate Maynard, December 2009
Download the article (PDF)
Click on thumb for larger image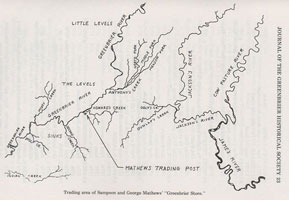 Map indicating the trading area of Sampson and George Mathews' "Greenbrier Store". This map was included in the article by Francis Alderson Swope. In November of 1767, 248 acres in the Little Levels were surveyed for Samuel Gilliland.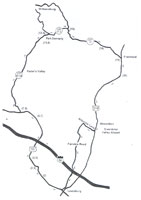 A modern map showing the western range of the trading area of the Mathews Trading Post. This map illustrates the location of the Rader Valley and Fort Donnally, as well as the towns of Frankford and Lewisburg. The Greenbrier River courses to the east of both towns. A comparison may be drawn to a more detailed map from 1887.